The Radyr Chain

The Radyr Chain is your free Community Newspaper. It is delivered to all residents of Radyr and Morganstown.
Editor: Jeff Davison
Tel: 01443 400 585
Email: Chain@Radyr.org.uk
Please note the previous @talktalkbusiness.net address is no longer valid for Chain Submissions and submissions sent to this address will not be received.
Advertising: Hildegard Davison
Tel: 01443 400 585
Email: RadyrChainAds@gmail.com
The Radyr Chain is compiled and distributed by a group of volunteers, and concerns itself with matters of local interest. It is published every two months, and contributions should reach the editors by the 15th of every odd-dated month, i.e. January, March, May, July, September, and November. We are always keen to include articles from local associations and clubs, and any contribution is most welcome, whether from clubs or individuals.
Latest Issue – Radyr Chain 264 – February 2023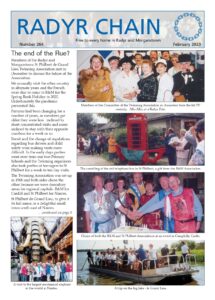 Back Issues available for download:
Radyr Chain 263 – December 2022
Radyr Chain 262 – October 2022
Radyr Chain 261 – August 2022
Radyr Chain 260 – June 2022
Radyr Chain 259 – April 2022
Radyr Chain 258 – February 2022
Radyr Chain 257 – December 2021
Radyr Chain 256 – October 2021
Radyr Chain 255 – August 2021
Radyr Chain 254 – June 2021
Radyr Chain 253 – April 2021
Radyr Chain 252 – February 2021
Radyr Chain 251 – December 2020
Radyr Chain 250 – October 2020
Radyr Chain 249 – August 2020
Radyr Chain 248 – June 2020 – Due to the risks associated with the Coronavirus pandemic, which prevented the distribution of paper copies, the June 2020 edition of Radyr Chain was published as an on-line only edition.
Radyr Chain 247 – May 2020
Radyr Chain 246 – February 2020    Radyr Chain issue 246 centre photo pullout
Radyr Chain 245 – December 2019
Radyr Chain 244 – October 2019
Radyr Chain 243 – August 2019
Radyr Chain 242 – June 2019
Radyr Chain 241 – April 2019
Radyr Chain 240 – February 2019
Radyr Chain 239 – roads supplement
Radyr Chain 239 – December 2018
Radyr Chain 238 – October 2018
Radyr Chain 237 – August 2018
Radyr Chain 236 – June 2018
Radyr Chain 235 – April 2018
Radyr Chain 234 – February 2018 
Radyr Chain 233 – December 2017
Radyr Chain 232 – October 2017
Radyr Chain 231 – August 2017
Tribute to former Editor, Bob Pearce (July 2017)
Radyr Chain 230 – June 2017
Radyr Chain 229 – April 2017
Radyr Chain 228 – February 2017
Radyr Chain 227 – December 2016
Radyr Chain 226 – October 2016
Radyr Chain 225 – August 2016
Radyr Chain 224 – June 2016
Radyr Chain 223 – April 2016
Radyr Chain 222 – February 2016
Radyr Chain 221 – December 2015
Radyr Chain 220 – October 2015
Radyr Chain 219 – August 2015
Radyr Chain 218 – June 2015
Radyr Chain 217 – April 2015
Radyr Chain 216 – February 2015
Radyr Chain 215 – December 2014
Radyr Chain 214 – October 2014
Radyr Chain 213 – August 2014
Radyr Chain 212 – June 2014
Radyr Chain 211 – April 2014
Radyr Chain 210 – February 2014
Radyr Chain 209 – December 2013
Radyr Chain 208 – October 2013
Radyr Chain 207 – August 2013
Radyr Chain 206 – June 2013
Radyr Chain 205 – April 2013
Radyr Chain 204 – February 2013
Radyr Chain 203 – December 2012
Radyr Chain 202 – October 2012
Radyr Chain 201 – August 2012
Radyr Chain 200 – June 2012
Radyr Chain 199 – April 2012
Radyr Chain 198 – February 2012
Radyr Chain 197 – December 2011
Radyr Chain 196 – October 2011
Radyr Chain 195 – August 2011
Radyr Chain 194 – June 2011
Radyr Chain 193 – April 2011
Radyr Chain 192 – February 2011
Radyr Chain 191 – December 2010
Radyr Chain 190 – October 2010
Radyr Chain 189 – August 2010
Radyr Chain 188 – June 2010
Radyr Chain 187 – April 2010
Radyr Chain 186 – February 2010
Radyr Chain 185 – December 2009
Radyr Chain 184 – October 2009
Radyr Chain 183 – August 2009
Radyr Chain 182 – June 2009