Alzheimer's Society – Volunteer Fundraising Group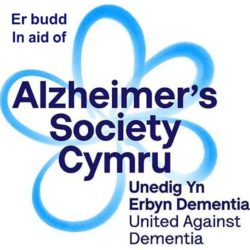 Radyr and Morganstown Alzheimer's Society Volunteer Fundraising Group is a local group, raising money for the Alzheimer's Society in Wales.
To date (January 2021), the group has raised over £50,000 for the charity through donations and support for events.
A big thank you to everyone who answered our appeal for jewellery in the last issue of the Radyr Chain, we had a wonderful response. If you are having a spring clean during lockdown, we are continuing to collect items of costume, gold or silver jewellery (even broken chains or single earrings are acceptable). Just post them in an envelope through the door of Gaynor at 5 Bryn Coed or Pat at 25 Drovers Way.
We look forward to resuming our activities when the situation allows and in the meantime we were delighted to hear that our local Councillor Rod Mckerlich, who is the Lord Mayor this year,  has chosen Alzheimer's Society Cymru as his chosen charity. We very much looking forward to working with him and the Lady Mayoress with their fundraising  throughout the year.
You can continue to support us through your Co-op membership – please select us as your charity of choice.
Please contact Tracey Stanley for more information about upcoming events and regular meetings (currently via Zoom).
e-mail: tss502@gmail.com
Tel: 07810 096 792