Village Walks
A series of specially designed self-guided walks around the area are being published.
The first of these, on Industrial Radyr starts at Radyr Station, stretches 4 miles and should take approximately 90 minutes at a leisurely walking pace.
The second, following a Roald Dahl Trail, starts at Park Road in Radyr and is a linear walk down in to Llandaff Village taking in 7 different Roald Dahl locations on route.
Activity Trail – #RMFestival2020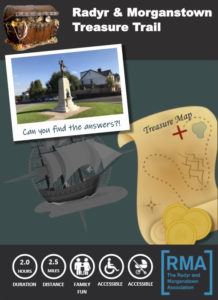 Welcome explorers, we have a challenge and we think you are just the right people for it! I hope your exploring skills are in tip-top shape as you will need them in this self-guided challenge. Captain Radmor has returned to the area after many years at sea and has decided to share some of his treasure—but only with the best explorers! He has set a trail and series of clues to find.
The treasure trail document has everything you need other than a pen or pencil. The following pages contain the directions and clues to solve / questions to answer. If you miss an answer just retrace your steps. Good luck!
Note – To ensure that the booklet prints correctly please make sure that the printer is set to 'print on both sides of paper' and then select 'flip on short edge'
A separate Answer sheet will be published shortly for you to check your answers against.
Activity Trail – #RMFestival2021
The 2021 Festival again produced a self guided trail around the village.
There are no prizes for this old trail but it should be a fun walk for the whole family and good training before our next Trail is released.
Download the 2021 trail booklet.
For best results when printing the booklet please be sure to set your printer to 'print on both sides of paper' and 'flip on short edge'. Then simply fold the pages in half to complete your booklet.