Radyr and Morganstown Festival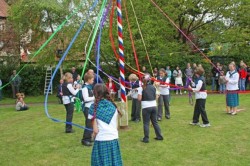 Maypole Dancing
Each year the village holds a two week May Festival organised by the Radyr & Morganstown Association (RMA), taking the form of over 40 different events arranged by local groups. The aim is to bring the community together in a social environment and also raise funds for nominated charities.
Running annually since 1988, the Festival has raised over £80,000 towards good causes and brought together friends and neighbours having fun. Festival events include sports, a civic reception, concerts, plays,dancing, competitions, gymkhana, dog show, carnival parade, quiz, organised walks, fetes, music on the Patio at the Golf Club, lunchtime recitals and many more.
Not forgetting the inauguration of our team of Festival Ambassadors, a group of young people to support the work of our chosen charity and encourage the community to engage with the Festival activities.
Full details of this year's Festival and our archive from previous years can be seen on the Festival's dedicated website – www.RMFestival.org.uk