Friends of Tenovus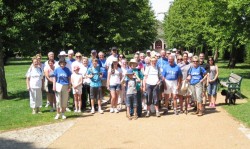 Tenovus walkers
What is Tenovus Cancer Care?
Tenovus Cancer Care is Wales' leading cancer charity; its aims are to prevent, treat and fund research to improve cancer outcomes and to bring cancer care into the community. The world's most successful breast cancer drug was developed by Tenovus scientists in Cardiff. The Charity's unique Mobile Cancer Support Units offer patient services in Welsh communities in many ways, including treatment delivered by specialist NHS nurses. Please visit www.tenovuscancercare org.uk for more information.
After a visit, by a member of the staff of Tenovus to the Radyr Women's Institute in 1985, several WI members were inspired to form the Radyr and Morganstown Friends of Tenovus Group, since then we have been helped and supported by many people who live in our community.
What have the R&M Friends of Tenovus Cancer Care achieved?
The Group has raised over £350,000 over the last 30+years and with the magnificent support, which is received from many generous members of our community, our events continue to help fund the marvellous work of the Charity.
We have enjoyed organising, with the kind help of others, Coffee Mornings, Strawberry Teas, Sponsored Walks, Golf Days, Concert Suppers, Quiz Nights, an Open Garden Day, Mulled Wine Festive Events, Theatre Trips and Literary Lunches. The sales of cards, along with donations, from many members of our community, help enormously. We also organise a collection of goods for sale in the Tenovus C.C shops. We hope that you will enjoy looking at the pictures of past events in the gallery, where you may spot yourself, family members or friends.
Forthcoming events
The events, which have been many and varied over the years, are wonderful ways to make contact with friends and neighbours within our community with the added satisfaction and bonus of helping those who are affected by cancer. All are welcome to join us in our efforts to support the Charity.
Please do join us – we look forward to seeing old friends and to welcome new supporters!
Coffee Morning – 26th October at Radyr Golf Club starts at 10.30am

Plenty of stalls and a great opportunity to catch up with friends.  Tickets £3 which you can purchase on the door or contact Jayne on 07807 676 951 to purchase in advance.
We look forward to welcoming you all.
Who can I contact?
The current committee is chaired by Rosanne Holmes (Tel. 2040 1872) with Sara Kiff/Ceri Hoddell as Secretary and Marilyn Vaughan as Treasurer. The other members include Maggie Roberts, Betty Fitzgerald, Philippa Hallinan, Sheila Phillips, Jayne Kendall, Jane Woodward and Ceri Anderson.   Please ring Rosanne Holmes on the above number if you have any questions about the Friends of Tenovus Cancer Care Group, or if you would like to know how you could help.