PACT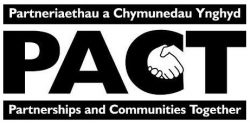 PACT is the name given to the neighbourhood meetings that form the structure through which Neighbourhood Policing is delivered.
PACT stands for Partnerships and Communities Together.
PACT meetings are the forum where the police and other groups that serve Radyr and Morganstown meet with residents. They take place once a month in order to deal with the issues that affect residents. They are organised and run by the police and the Community.
Dates of future meetings in 2020
Due to the Coronavirus Pandemic the next meeting is still to be re-scheduled.
What are PACT meetings?
They will usually take place during the first week of every month in the Old Church Rooms. or other venues around Radyr and Morganstown.
PACT panels meet immediately after the meeting and are open to those who have attended the meeting.
PACT panels consist of the police, members of the public who have attended the meeting and partners who can take action to deal with the priorities.
PACT panels identify up to three top priorities at the community level every month.
There will always be a report at the next meeting on progress on previous month's priorities.
What are the benefits of PACT?
It is your opportunity to have an input into local policing priorities.
It means giving everyone the chance to see members of their neighbourhood team in person at least once per month.
It is about communicating with local people and telling them what their neighbourhood team is doing for them.
It is about engaging the community.
OurBobby.com website : http://www.ourbobby.com/EN/PACT/Default.aspx?n1=1&n2=8&n3=114&n4=159&id=86
PACT Priorities
Priorities set at recent meetings are summarised in the associated documents.
Community Concerns
Concerns expressed by the Community can be seen in the notes of our meetings or the Neighbourhood Watch page
Meeting Notes