Neighbourhood Watch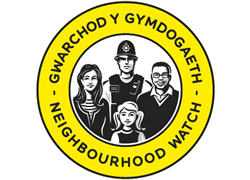 The Neighbourhood Watch group in Radyr and Morganstown are alerted to criminal activity, threats and hoaxes within the community. Most of the communication is initiated by the South Wales Police force using computer emailing services.
Local contact can be made on the following email address : d.cargill@ntlworld.com
Current alerts from the police involve : Cold canvassers, bogus callers, hoax telephone messages, criminal activity in the area including theft, assaults, criminal damage and public order offences.
We ask recipients of these messages to warn their neighbours of these alerts so that the whole community is aware of any risks.
We are now registered with the National Neighbourhood Home Watch Scheme- www.ourwatch.org.uk
There is a local website for CARDIFF on www.cardiffnhw.org.uk or www.twitter.com/cardiffNWH or on Facebook.
Neighbourhood Watch matters are discussed at the regular PACT meetings, which include our local Police Officers and County Councillor. Details can be found on the PACT page
Recent Neighbourhood Watch Alerts
24 November 2021
Message from South Wales Police.
 I am a Crime Reduction Tactical Advisor for South Wales Police. I want to bring to your attention that in the County of Mid Glam we saw an increase in bicycle thefts in October, hot spot areas being Merthyr and Bridgend. The majority of bikes were left insecure in gardens and outside shops/pubs but we have had a couple of burglaries where bikes were stolen. I note that you already have the appropriate crime prevention message on your web site but ask if your members would assist by spreading the crime prevention message within their Watches especially on the run up to Christmas with bikes being a popular gift.
25 October 2021
A recorded message from a "private witheld" number advising that a bank card has been used for Amazon £300 and a travel company £1100 – Please select 2 for a specialist !!!!    Another scam.
15 July 2021
The local police have introduced a new alert from iPhones of non emergency criminal reporting.  The report can be accessed by the camera on your iPhone..  Further details on the South Wales Police website.
14 July 2021
Neighbourhood Watch has launched its "Sling your hook" Campaign – details can be found on the News Section on the front page.
10 July 2021
A local resident has had 7 calls from a Microsoft Scam based in West Bengal.  On receiving the second call the recipient told the caller to get off the line ( in a strong manner) The third call was from her "manager" who used stronger language, despite being accused of scamming.  The call has been blocked and reported to BT.  The number is 03456202375, shown on the web as a scam.  Microsoft do not normally make phone calls they contact you through your computer.
14 May 2021
The number to call to report any scammers: 0300 123 2040 You can also use the Action fraud website
2 May 2021
scam regarding registering bank details for  virgin media.  SCAM email from "wbteam@virmedia.com"
web team and virgin media misspelt!
15 April 2021
Bogus call regarding withdrawing the BT telephone line within 24 hours.  The receiver of the call is not even supplied by BT.
7 April 2021
Local police have given a warning regarding cold canvassers offering to buy gold and antiques. Three callers were observed in the village this week.  Although not a criminal offence residents should be cautious completing deals on the doorstep.
2 April 2021
Scam from support@uniqueclub.co.in  stating that details at Vehicle Licence Agency are incorrect and failure to click back will delete all details.   BEWARE
6 February 2021
Criminal Assault
An assault on two residents took place today close to the River Taff.  A gang of youths assaulted a female runner and her husband.  The police have been informed.  Anyone who can assist in this incident should contact the local police by dialling 101.
6 January 2021
Vaccination Scam
Crime Watch are advising that there is a dangerous email being sent out regarding the vaccination for Covid 19.  You are asked to contact uk-applicationform-com and supply all your details.  This is a scam- the vaccine is FREE.