Neighbourhood Watch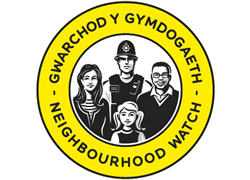 The Neighbourhood Watch group in Radyr and Morganstown are alerted to criminal activity, threats and hoaxes within the community. Most of the communication is initiated by the South Wales Police force using computer emailing services.
Local contact can be made on the following email address : d.cargill@ntlworld.com
Current alerts from the police involve : Cold canvassers, bogus callers, hoax telephone messages, criminal activity in the area including theft, assaults, criminal damage and public order offences.
We ask recipients of these messages to warn their neighbours of these alerts so that the whole community is aware of any risks.
We are now registered with the National Neighbourhood Home Watch Scheme- www.ourwatch.org.uk
There is a local website for CARDIFF on www.cardiffnhw.org.uk or www.twitter.com/cardiffNWH or on Facebook.
Neighbourhood Watch matters are discussed at the regular PACT meetings, which include our local Police Officers and County Councillor. Details can be found on the PACT page
Recent Neighbourhood Watch Alerts
11 September 2023
At 3.30am a car thief was filmed trying door locks on several cars around the top of Dan y Bryn Avenue area of Radyr. The police were called but the individual left the area before they arrived.  Make sure your vehicles  are locked overnight if parked on your drive.
18 March 2023
Email Scam.  A local resident has had his email account scammed.  Emails have been issued asking for help with obtaining an ITunes card for £200 for a nieces birthday as they were having difficulty with their bank card.  It is scam.
18 February 2023
Cold callers have been operating in Radyr this week offering to buy gold for cash. They appear to be targeting elderly residents. I have attached a copy of the leaflet they were using which was also used last year in Fairwater but they have changed the males details and mobile number on it. Please tell residents to be vigilant and do not allow cold callers into your properties. It is believed they were in a van but we have no further details on the vehicle.
February 2023
Local police have asked residents to be aware that there have been some burglaries in the area where the perpetrators are targeting properties that are under renovation. They have forced entry to these properties and have stolen high value power tools.
We are asking residents and tradesmen to be vigilant and advising them not leave tools or any other equipment at the properties overnight. We are also advising that tradesmen mark their property and register any property with www.immobilise.com<http://www.immobilise.com> noting any serial numbers.
November 2022
Police Report
40 incidents between June and November
3. Disputes   9 Property damage   12 Anti Sociable Behaviour   15 Shoplifting
Incident of door to door rogue traders
Complaints regarding car parking, especially around the schools.
observations of seat belt, mobile phone incidents
18 July 2022
The National Fraud Intelligence Bureau (NFIB) is warning the public about the continued increase in reports about scams where victims are targeted on WhatsApp by criminals pretending to be someone they know – typically their children. Between 3rd February 2022 and 21st June 2022, there have been a total of 1235 reports made to Action Fraud linked to this scam, with total reported losses exceeding £1.5mn.
Criminals will usually begin the conversation with "Hello Mum" or "Hello Dad" and will say that they are texting from a new mobile number as their phone was lost or damaged. They will then ask for money to purchase a new one, or claim that they need money urgently to pay a bill       The criminal will provide bank details for the payment to be made to, with some coming back with further demands for money.
July 2022
Did you know that in 2021, over £15 million was lost to courier fraud in the UK, affecting over 3,600 victims?
In the midst of the cost-of-living crisis, there has never been a greater need to protect vulnerable people from fraud and scams. The charity Crimestoppers is working with the City of London Police and Action Fraud to raise awareness of what courier fraud is, and how we can prevent it. Fraudsters create a false sense of urgency Courier fraud is a scam where criminals pretend to be the police or the victim's bank, where victims are tricked into providing banking details, withdrawing cash, foreign currency, purchasing gold, watches, or other expensive items. These items, as well as bank cards, are handed over to strangers (known as couriers) who can turn up at your home in a false `race against time' and pose as police or bank workers, claiming they urgently need to collect these items from the victim to protect their savings or property. Sadly, in many cases, the victims oblige and are unable to claw back what they lose. Victims are often vulnerable or older people. Around 60% of victims are over 70, and whilst the average loss per person is around £5,000, the highest single loss last year was £640,000. One victim was a woman in her 80s who was conned out of more than £30,000 after handing over her debit card and her driver's licence. For the vulnerable victims of this sophisticated scam, the emotional and financial impacts can be devastating. For the criminal gangs behind it, the profits fund wider serious crime that impacts communities across the country.
Crimestoppers, which is independent from the police, offers individuals a way to speak up with information on those involved in courier fraud. Stay 100% anonymous by using our unique service. Call freephone 0800 555 111 at anytime or complete a safe and secure anonymous online form at Crimestoppers-uk.org, 24/7, 365 days a year. If you are a victim, then all courier scams must be reported to Action Fraud, which is run by City of London Police and remains the single reporting process for this type of offence across England and Wales. However, if a crime is in progress, then we advise victims or witnesses to call 999.
June 2022
NTL email users have been bombarded with scam messages informing them that their account is being closed and you should use the contact button to update your details.  Do not reply.