Neighbourhood Watch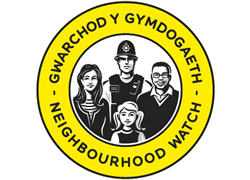 The Neighbourhood Watch group in Radyr and Morganstown are alerted to criminal activity, threats and hoaxes within the community. Most of the communication is initiated by the South Wales Police force using computer emailing services.
Local contact can be made on the following email address : d.cargill@ntlworld.com
Current alerts from the police involve : Cold canvassers, bogus callers, hoax telephone messages, criminal activity in the area including theft, assaults, criminal damage and public order offences.
We ask recipients of these messages to warn their neighbours of these alerts so that the whole community is aware of any risks.
We are now registered with the National Neighbourhood Home Watch Scheme- www.ourwatch.org.uk
There is a local website for CARDIFF on www.cardiffnhw.org.uk or www.twitter.com/cardiffNWH or on Facebook.
Neighbourhood Watch matters are discussed at the regular PACT meetings, which include our local Police Officers and County Councillor. Details can be found on the PACT page
Recent Neighbourhood Watch Alerts
15 July 2021
The local police have introduced a new alert from iPhones of non emergency criminal reporting.  The report can be accessed by the camera on your iPhone..  Further details on the South Wales Police website.
14 July 2021
Neighbourhood Watch has launched its "Sling your hook" Campaign – details can be found on the News Section on the front page.
10 July 2021
A local resident has had 7 calls from a Microsoft Scam based in West Bengal.  On receiving the second call the recipient told the caller to get off the line ( in a strong manner) The third call was from her "manager" who used stronger language, despite being accused of scamming.  The call has been blocked and reported to BT.  The number is 03456202375, shown on the web as a scam.  Microsoft do not normally make phone calls they contact you through your computer.
14 May 2021
The number to call to report any scammers: 0300 123 2040 You can also use the Action fraud website
2 May 2021
scam regarding registering bank details for  virgin media.  SCAM email from "wbteam@virmedia.com"
web team and virgin media misspelt!
15 April 2021
Bogus call regarding withdrawing the BT telephone line within 24 hours.  The receiver of the call is not even supplied by BT.
7 April 2021
Local police have given a warning regarding cold canvassers offering to buy gold and antiques. Three callers were observed in the village this week.  Although not a criminal offence residents should be cautious completing deals on the doorstep.
2 April 2021
Scam from support@uniqueclub.co.in  stating that details at Vehicle Licence Agency are incorrect and failure to click back will delete all details.   BEWARE
6 February 2021
Criminal Assault
An assault on two residents took place today close to the River Taff.  A gang of youths assaulted a female runner and her husband.  The police have been informed.  Anyone who can assist in this incident should contact the local police by dialling 101.
6 January 2021
Vaccination Scam
Crime Watch are advising that there is a dangerous email being sent out regarding the vaccination for Covid 19.  You are asked to contact uk-applicationform-com and supply all your details.  This is a scam- the vaccine is FREE.
24 December 2020
Goetre Fawr, Radyr
Attempted theft of car. Tonight at 19.25 someone crept under the range of our ring camera on their hands and knees to the side of our mini and managed to open the car and the back door of the Mini Countryman luckily our neighbour came in and disturbed them, we could see a shadow on the continuous loop of the camera but they didn't set it off,
15 December 2020
Action Fraud has seen a surge in reports relating to fake emails and texts purporting to be from DPD. The messages claim that DPD was "unable to deliver your parcel today" and provide instructions on how the recipient can arrange another delivery. The links in the emails and texts lead to fake websites that are designed to steal money, as well as personal and financial information.
12 December 2020
Heol Isaf Radyr 
 Intruders. 02:40 ish last week, our CCTV captured two men on camera trying to open garden gates and cars on our property on Heol Isaf. Both wearing light joggers, trainers and hoodies (one with baseball hat under) and with jackets over. About average height and one was carrying what looks like a bit of scaffolding in his hand. No gloves as far as I can tell, so I'll try to tape off any fingerprints from the car door. Good long bit of footage which I have reported to the police. They were going from house to house trying locks and left, crossing Heol Isaf, towards The Green/Windsor Road. Please keep everything for which you've worked hard, locked up and safe from these chancers.
Telephone Scams
Scam telephone calls can start 01482 a Hull number. This is being used by scammers for BT, Virgin, Amazon and machine insurance cover etc.
7 November 2020
Another round of Tax scams is occuring threatening to "arrest" you if you do not reply to their call !
6 November 2020
Action Fraud is warning people selling items online to be on the lookout for criminals sending fake PayPal emails.
15 October 2020
Tax Scam phone message from 2039368947 advising you of non payment of tax charges.  By not ringing back on this line you will be "arrested".
10 October 2020
Rates Revaluation Scam  If anyone gets a call of a company Greystones Recovery about wrong rebanding of council tax and you are eligible for a refund. This a new known scam they are saying they are regulated by trading standards but they are not. Mainly targeting elderly people on residential areas . They ask you to call a telephone number and it will cost you a fortune!
8 October 2020
Postal Scam: We've been told about a double scam that's doing the rounds. It's telling people to be aware of cards put through your letterbox suggesting that a parcel couldn't be delivered, and asking you to call a premium rate number. It then gives a 020 (London) number to ring, to report receiving this card to Royal Mail Fraud. However, this information is also false and you are advised not to call the number.
If you wish to contact Royal Mail Fraud Tel: 0800 113 466 or email scam.mail@royalmail.com
18 August 2020
Car Theft Following the car theft in Dan y Bryn Avenue residents are reminded that criminals are now able to use electronic devises to pick up the car remote signal and relay it the car.  A number of cars are automatically started without the use of a key. Car thefts of top of the range cars has been on the increase.
If you park on a drive or in the road you should consider buying a steering lock – from £20 from Halfords
30 July 2020
TV licence scam
TV Licensing Official
Oops! Something went wrong with your payment.    We're sorry to let you know that the TVLicence could not be automatically renewed.
Renew your licence before it expires on 31 July 2020 to remain legally licensed.
If you don't keep up with your payments, we may be forced to cancel your licence or pass your details to a debt collection agency.
How to pay?
Making a payment is easy – just follow the link
17 July 2020
Online shopping fraud during lockdown
Action Fraud, the UK's national reporting centre for fraud and cyber crime, received over 16,000 reports relating to online shopping and auction fraud during the lockdown, with losses totalling over £16m. Members of the public have reported buying mobile phones (19%), vehicles (22%), electronics (10%) such as games consoles, AirPods and MacBooks , and footwear (4%) on sites such as eBay (18%), Facebook (18%), Gumtree (10%) and Depop (6%), only to have the items never arrive.
Top tips for shopping online securely:
Choosing where to shop:
If you're making a purchase from a company or seller you don't know and trust, carry out some research first. For example, by checking to see if others have used the site and what their experience was.
Email accounts:
Use a strong, separate password for your email account. Criminals can use
your email to access other online accounts, such as those you use for online shopping.
Scam messages:
Some of the emails or texts you receive about amazing offers may contain links to fake websites. Not all links are bad, but if you're unsure don't use the link, go separately to the website. And remember, if a deal looks too good to be true, it probably is.
Payment method:
If you decide to go ahead with the purchase, use a credit card if you have one as other payment providers may not provide the same protection. July 2020
29 May 2020
A automatic call from 01159338000 is a scam call.  Do not press 1 or 2 just delete it
13 May 2020
Another TV scam sent today =
Your license expires on 13/05/2020.
We are sorry to let you know that the TV License could not be automatically renewed. Something's gone wrong with your payments.
As we couldn't take the latest payment from your bank account, this amount will also need to be paid when you set up your new Direct Debit.
The email address used is: review229473.456152138@belicenesend1year.co.uk
01 May 2020
If you receive a phishing email you can send it on to : report@phishing.gov.uk. This will go to the National Cyber Security Centre so that they can remove the site sending the email.
23 April 2020
Latest TV Licence Scam received today.
We're sorry to let you know that the TV License could not be automatically renewed
Your bank has declined the latest Direct Debit payment.
As we couldn't take the latest payment from your bank account, this amount will also need to be paid when you set up your new Direct Debit.
"Click here and set up your new direct debit"
Remember, if you don't keep up with your payments, we may be forced to cancel your license or pass your details to a debt collection agency.
29 March 2020
We have had a report of an elderly female resident in Radyr being the victim of a rogue trader incident today (Sat 28th).
Two males in a white Transit van with livery on the side of 'Tree Cutting' or similar wording with green colouring surrounding the wording, has been to the address and removed a small amount of tiles from the roof. They have then attempted to charge a large amount of money to 'repair' the tiles. Luckily the female refused to part with any money and contacted her son, who quickly contacted the Police. These males are known to frequent the area and have carried out work for other residents. We ask that at this time, whereby we have a large amount of elderly people in self-isolation, neighbours are vigilant to 'workman' back and fore to these addresses. If you are concerned or suspicious of 'workmen' who are at addresses of people you believe to be vulnerable, please either check on them or if you are not happy to do so, please ring 101.
Any vehicle registrations/descriptions etc  obtained, please give to the Police.
26 March 2020
A number of #COVID19 related phishing emails have been reported to Action Fraud. These emails attempt to trick you into opening malicious attachments which could lead to fraudsters stealing your personal information, logins, passwords, or banking details.
17 March 2020 
In Aberdeen people have been cold called upon and told to self-isolate. They have then be asked if they need anything? Taking their bank cards and using this to withdraw money from bank accounts.
As a result we are keen to awareness raise around letting strangers in. Contacting legitimate organisations who can help. Age Cymru, Care & Repair, WRVS, etc.
6 January 2020
A resident had a call today, supposedly from Amazon Prime, stating that his subscription would be automatically renewed unless he pressed 1 on his phone.  Having pressed 1 a foreign female voice asked him to type an address into google, which was not an Amazon page. He realised that she was about taken over control of his computer! Be aware of this scam.
Flickr request failed