27/04/2022
Bishop June has appointed 2 new clergy to begin serving the Garth Ministry Area beginning later in 2022.
Rev'd Ian Yemm, currently Assistant Curate in the Cowbridge Ministry Area, will join the Garth Ministry Area later this year with pastoral responsibility for the communities of Radyr & Morganstown and Danescourt.
Rev'd Sandra Birdsall, currently Vicar in the Afon Nedd Ministry Area and Chaplain to Mothers' Union Llandaff, will be particularly serving the communities of St Fagans, Tongwynlais and Taffs Well.
Meet Rev'd Ian Yemm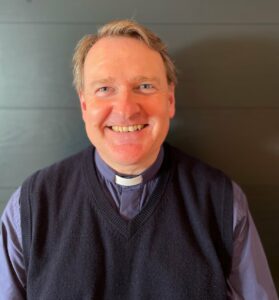 Ian has a passion for music and liturgy.
Ian grew up in Herefordshire and Shropshire. He is married to Bernhard, a doctor working in the NHS for the last twenty years. Ian trained for ministry in the Church in Wales at the St Padarn's Institute in Llandaff and has served his Curacy in the Cowbridge Ministry Area. Before returning to Cardiff, Ian was the Coordinating Chaplain at the University of the West of England in Bristol and ministered in parishes in both the Bristol and Gloucester Dioceses.
Prior to that, Ian worked as a professional musician, singing in the chorus of Welsh National Opera.
Meet Rev'd Sandra Birdsall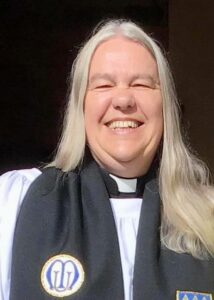 Sandra was born in Bridgend but grew up in Penarth and then Radyr. She read Genetics at University College London where she met her husband Mike.
"After university I trained as a clinical cytogeneticist at St Bartholomew's Hospital specialising in the diagnosis and monitoring of leukaemia and lymphoma. I then spent several years as a research scientist at the Royal Marsden Hospital. We then moved back to Radyr and I began working at the University Hospital of Wales where I became head of the Haematological Malignancy Genetic Diagnosis Laboratory."
"Outside of work I became a Sunday school teacher and later Church Warden in the Parish of Radyr. Finding this ministry and my faith becoming a more and more important part of my life I left work in 2013 to study full time at St Mike's. I was ordained Deacon in 2015 and priest in 2016, serving my title in the Parish of Penarth All Saints."
"In January 2019 I was commissioned as diocesan Mothers' Union Chaplain. A role I love and have recently been recommissioned for the new triennium. In June 2019 I was appointed Vicar in the Parish of Llansawel, Briton Ferry, where it has been a privilege to serve with a really friendly fun group of people with a strong sense of God's call in their lives. I have recently been awarded a Master of Arts in Christian Spirituality from the University of Winchester, for which I studied at Sarum College in Salisbury."
"Mike, my husband, is a software developer and we have two daughters, one married, one still at home. Last summer we became grandparents for the first time and I have rediscovered the joy of knitting picture jumpers for our granddaughter. My other passions are travel to places of ancient historical importance and anything to do with rhinos – even having them on my green stole!"