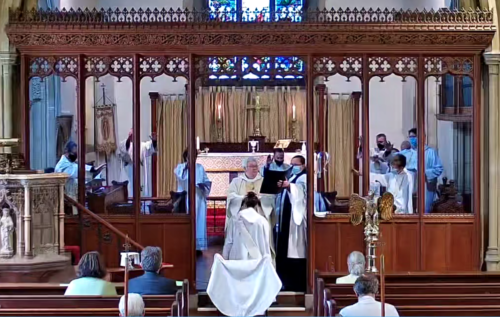 The monent of Ordination
01/07/2021
Our Curate, Belinda, was Ordained Priest by Bishop June at a moving service in Christ Church on Saturday, 26th June. Although the congregation was necessarily reduced by Covid restrictions, friends and family, including her parents and her husband, Simon, were there to support her. Music was provided by Hayley Jenkins (piano), Simon Davison (cello) and Gall Pearson (soprano).  After the service, attendees were served Prosecco in the sunshine.
A recording of the service can be viewed on the Parish's YouTube channel.
The following day, Sunday 27th June, Belinda presided at her first Eucharist service at 11:00 in Christ Church.  The sermon at the service was given by Rev'd Dr Trystan Owain Hughes of St Padarn's Institute.