Information for new residents and useful contacts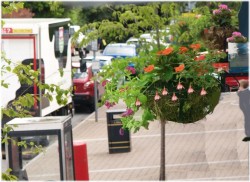 Welcome to Radyr and Morganstown, a village lying beneath the Garth Mountain along the edge of the River Taff, which runs down to the City of Cardiff, via the Radyr Weir. The village has a vibrant community with three quality schools, two churches, a superb inland golf course, tennis and cricket clubs, recreational fields and play areas for younger children.
There are numerous voluntary organisations and charity groups – drama, music, Scouts, Cubs, Guides, Brownies, PTAs, all meeting in local village halls. Details of all of these can be found in the Clubs and Societies section or through our Directory of local services. There are also active religious communities through both the Parish of Radyr and Radyr Methodist Church.
Radyr Woods provides a nature reserve for wildlife, adjoining what was the historic railway sidings. An active commercial dolomite quarry run by Cemex is situated just North of the village but has minimal impact on community life.
The village has a population of almost 6,500 people but is constantly expanding. Following on from previous developments at Radyr Gardens, Parc Radur and Radyr Sidings we now have new build properties occupied in the Radyr end of the Plasdŵr development.
Each year we hold a two-week Festival in May, with over 40 different events raising funds for nominated charities. The Remembrance Sunday Parade at the War Memorial in November is always well supported by local residents.
Representation
The Radyr & Morganstown Community Council Community Council is the latest in a council heritage which has served R&M since 1884. It is now an elected body serving the three wards of Radyr South, Radyr North and Morganstown. There are four councillors for each ward. R&MCC is politically neutral and no councillor stands on a political ticket.
R&MCC is a statutory consultee on community planning and we represent R&M on issues that affect the community such as the Local Development Plan. We respond to consultations from Welsh Government and Cardiff Council to give R&MCC's position and views on new policy which will affect the community.
Website: https://RadyrAndMorganstownCC.org
Tel: 029 2084 2213
e-mail: clerk@radyr.wales 
Cllr Rod McKerlich serves as the area's only County Councillor as an opposition member of Cardiff Council. His page on this website includes contact details and his published monthly reports. He can be contacted regarding individual cases as well as matters of policy.
Your current Members of the Senedd (MS|AS) and Member of Parliament (MP) can be found in the Local Representatives section of the Directory.
Some useful telephone numbers and web links
Cardiff Bus website to see the local 63 bus timetable – https://www.cardiffbus.com/services/CB/63 
National Rail website to see the local train timetable – http://www.nationalrail.co.uk/stations/RDR/details.html
Traveline Cymru can assist with any public transport queries around Radyr, Cardiff and further across Wales – http://traveline.cymru – 0800 464 00 00
The village is a Neighbourhood Watch area, which helps to alert to criminal activity, threats and hoaxes within the community. Visit their pages to find out more about joining the Watch, to protect and inform you and your neighbours from criminal and unsociable activities.
There are many organised Youth Groups including Scouts, Cubs and Beavers, Guides, Brownies and Rainbows as well as Sports clubs with both adult and youth sections.
The Hall Bookings section of the directory lists details of halls in the village including how to contact for bookings and other enquiries.
For local trades, shops and other services visit our directory. Most businesses, organisations and voluntary group have their own webpage and these can be accessed through the directory on this website.
You can also access back copies of the Radyr Chain – the bimonthly Community newspaper.
The village is twinned with St Philbert de Grand Lieu, a slightly larger community close to Nantes in France. Regular exchanges are arranged to visit each other during the summer period. To see more of these activities go to the Twinning page.
Social Media
The RMHub on Facebook, run by the RMA aims to draw together notification of local events and topical local news. Our Twitter Account is @RMHub
The RMA also has a dedicated site for the Radyr & Morganstown May Festival at www.rmfestival.org.uk
Places of Interest
Radyr Woods – a nature reserve and amenity area, covers 14 acres with a variety of wildlife, habitat, ponds, springs and heathland, including a medieval cooking mound. This area is managed by the Radyr Community Council and maintained by the volunteer Radyr Woods Wardens.
Dan y Bryn Woods – A woodland area in the heart of the Dan y Bryn housing estate left as a nature reserve for woodpeckers, jays and owls. The occasional fox is also seen here.
Taff Trail – a river walk along the River Taff – North to Merthyr Tydfil and south the city of Cardiff can be accessed across the river bridge at Radyr Station or the footbridge by Gleynyys Farm in Morganstown..
Forest Farm Wildlife Reserve – On the other side of the river Taff is an area preserved for wildlife which can be observed from a purpose built hide.
Skateboard Park – An area of Mound field (Adjacent to Pugh's Garden Centre in Morganstown) has been designated for skateboarding with a specially designed skate park.
Village Walks – a series of specially designed walks around the area are being collated and published by the RMA, each with its own theme.
Play Areas for Children – There are currently five areas with play facilities for children
The Mound Fields, Morganstown contains football fields and a dedicated set of skateboarding ramps;
Radyr Gardens has an area of swings and slides;
the park area in Radyr Gardens contains a hard standing area with goal and netball posts for all weather play;
Radyr Sidings has swings and slides as well as an open green area;
Parc Radur contains an open green space where there is also a hard standing area with goal and netball post for all weather play.
Pentwyn contains a kick about area.
See the village map for a better sense of where these sites are.
Unfortunately the children's play area in Parc Radur is currently closed waiting for remedial groundworks to be done prevent the playground from flooding before new equipment partly funded by a community fundraising effort can finally be installed.
Village History
There are a number of pages on the website giving the history of the village over the last 5000 years, maintained by the Radyr & Morganstown Local History Society.
Feedback
We're keen to hear from anyone who has read this page and found it useful. Even more importantly, it would be good to hear from anyone with suggestions for making this page more helpful to new or prospective residents. Please drop us a line to web-team@radyr.org.uk