Good Neighbours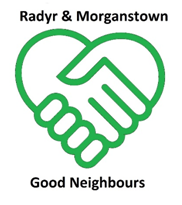 WELCOME
Helping people maintain independence at home

My name is Louise Beesley and I am the coordinator for the new Radyr & Morganstown Good Neighbours scheme.  The scheme is being set up to offer services to those in need of help and support. We plan to offer assistance with transport, shopping and companionship and also provide general advice to residents in Radyr, Morganstown and the surrounding areas.
I will not be doing all this myself. The aim is to build a team of willing volunteers who will have fun providing the necessary assistance to those who need it.
If you think you might be able to help in this rewarding work, please get in touch with me on (0755 3463676 or coordinator.rmgn@gmail.com).
We are looking for people who are willing to commit to anything from an hour a week to develop this project. I envisage this being:
befriending people who have become isolated in person or by phone;
being willing to get shopping for someone who would otherwise struggle to get it;
supporting events such as coffee mornings etc.
At the moment we are also interested in what people feel our community needs and would like to hear from you about any skills you have, or projects you are interested in.
We would love this to include all ages and abilities with emphasis on things that keep us healthy, happy and connected to each other.
It is very early days and things will inevitably start small. But, with your help, we can make a real difference to our Community.
HOT PRESS
We have made arrangements to hold a regular event in the New Schoolrooms (next to Christ Church in Heol Isaf, Radyr) on the first Friday in the month. The next one will be on Friday, 6th May from 2pm-4:30pm. Drop in for a chat and some refreshments. Get to know each other and meet new friends.  No charge.