Good Neighbours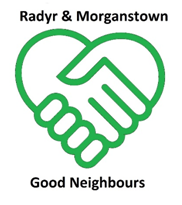 Welcome
Helping people connect with their community
My name is Louise Beesley and I am the coordinator for the Radyr & Morganstown Good Neighbours scheme.  The scheme, sponsored by the Radyr & Morganstown Community Council, has been set up to offer services to those in need of help and support. We aim to help people connect with their community by telling them what is available, providing opportunities for people to meet and helping with getting them there.
I will not be doing all this myself. The aim is to build a team of willing volunteers who will have fun providing the necessary assistance to those who need it. I am also compiling a list of organisations that you can contact yourself if you need specific help. See the adjacent panel.
Friday with Friends
Our main work at the moment is a regular event we hold in the New Schoolrooms (next to Christ Church in Heol Isaf, Radyr) every Friday from 2.00-4.00 pm. See the adjacent panel for more information but, in general, just pop along for a cuppa, cake and a chat. All are welcome.
It will be great to see you.
Of course, if you would like able to help in this rewarding work, please get in touch with me on 07553 463 676 or coordinator.rmgn@gmail.com and I will give full details.
Dementia Friendly
We are now registered with 'Dementia Friendly Cardiff'.