Planning Application – Works over the railway at Gelynis Farm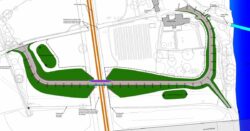 Update July 2021 – The Planning Committee of Cardiff Council have approved the planning applications relating to the works over the railway at Gelynis Farm. A recording of the webcast of the relevant meeting can be seen through Cardiff Council's website.
The RMA are now making contact with Transport for Wales to secure the details of the agreements made during our meetings prior to the planning application being considered and to seek to influence the content of the Construction Environmental Management Plan which must be submitted to the council prior to any works on this project taking place.
---
Following on from the RMA's meetings with representatives from Transport for Wales regarding the electrification of the railway lines north of Radyr and associated works including the use of compouds at Gelynis Farm and the Mound Field in Morganstown.
The RMA has been made aware of a formal full Planning Application submitted to Cardiff Council for the installation of a new vehicular and pedestrian bridge over the Radyr – Pontypridd railway line and associated infrastructure and removal of part of a ruined farm building.
The Association Executive has submitted the following objection to this application:
Objections from both our Councillor, Rod McKerlich, and the Community Council can be downloaded from the Council Planning Portal.
Further objections from residents were encouraged to be sent by Thursday 11 March 2021