Previous Films

This page lists just some of the previous films that the RMA Film Club have shown in the Old Church Rooms.
Downton Abbey (PG)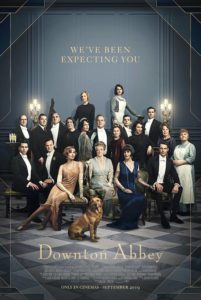 27 February 2020 at 19:30
The Crawleys and their intrepid staff prepare for the most important moment of their lives. A royal visit from the King and Queen of England will unleash scandal, romance and intrigue that will leave the future of Downton hanging in the balance
If you love the Crawley's, you will love the movie. It's fun, full of glamour & pageantry, and a few twists & turns. It's a little predictable, but who cares. It's fun. Violet, our lovable dowager, is her quip usual self, & thank goodness. Be prepared to be pleasantly entertained and enthralled by it all.
Tolkien (12A)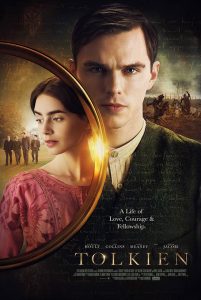 Thursday 28 November 2019 at 19:30
As a young student, J.R.R. Tolkien finds love, friendship and artistic inspiration among a group of fellow outcasts. Their brotherhood soon strengthens as Tolkien weathers the storm of a tumultuous courtship with Edith Bratt and the outbreak of World War I. These early life experiences later inspire the budding author to write the classic fantasy novels "The Hobbit" and "The Lord of the Rings".
Nicholas Hoult moves away from his superhero roles to take on a more serious character. Not without its flights into fantasy, Tolkien aims to tunnel through the prose and link his novels to real-life occurrences to discover the inspiration to his cherished works. With popular actors in the central roles, Tolkien has appeal outside of literary circles.
Kind Hearts and Coronets (PG)
Thursday 24 October 2019 at 19:30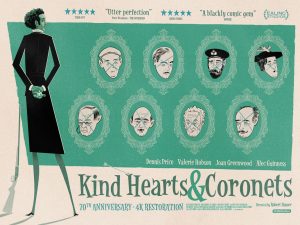 When his mother eloped with an Italian opera singer, Louis was cut off from her aristocratic family. After the family refuses to let her be buried in the family mausoleum, Louis avenges his mother's death by attempting to murder every family member (all played by Alec Guinness) who stands between himself and the family fortune. But when he finds himself torn between his long-time love and the widow of one of his victims , his plans go awry.
As a celebration of this classic Ealing comedy reaching 70 years young, we invite you to introduce this stone-cold classic to old faces & newcomers alike. Sir Alec Guinness' hilarious multiple personalities never fail to raise a laugh and we think it'll evoke positive memories of a classic era for British comedy. They don't make them like this any more!
Fisherman's Friends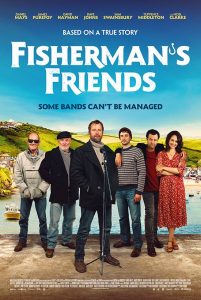 Thursday 26 September 2019 at 19:30
A fast-living, cynical London music executive (Daniel Mays) heads to a remote Cornish village on a stag weekend where he's pranked by his boss (Noel Clarke) into trying to sign a group of shanty singing fishermen (led by James Purefoy).
This group of ten fishermen from Cornwall are signed by Universal Records and achieve a top ten hit with their debut album of Sea Shanties.
"A great light hearted comedy"
"This is toe tapping, rib tickling, heartwarming fun"
Green Book (12A)
Sunday 25 August 2019 at 19:30
Set in America in 1962, Green Book tells the heart-warming true story of Tony Lip, a working-class Italian-American bouncer who takes on a job as a chauffeur for Dr. Don Shirley, a highly-educated African-American classical pianist on a tour of venues through the 1960s American South.
Together, the snobbishly erudite pianist and the crudely practical bouncer can barely get along with their clashing attitudes to life and ideals. However, as the disparate pair witness and endure America's appalling injustices on the road, they find a newfound respect for each other's talents and start to face them together. In doing so, they would nurture a friendship and understanding that would change both their lives.
Running Time 112 minutes
Tuesday 14 May 2019 – The Kid (U) & Associated Shorts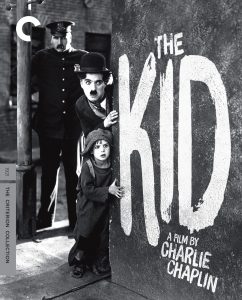 The opening title reads: "A comedy with a smile–and perhaps a tear". This 1921 Black and White Silent classic is not only the first Feature Film starring Charlie Chaplin, it is also the first appearance of child star Jackie Coogan. In this later print the original images are combined with a unique recording of the full orchestral Chaplin Score conducted by the artist himself.
"It is hard to find such delightful and adorable movies these days as "The Kid". It is a silent movie but so rich, winning and beautiful that you don´t need words. Chaplin and 6-year old Coogan are possibly the most charming pair I have ever seen in my life."
As our Festival Special this screening will be proceeded by some relevant shorts showing "Children in Action" on the Big Screen.
Thursday 28 March 2019 – Bohemian Rhapsody (12A)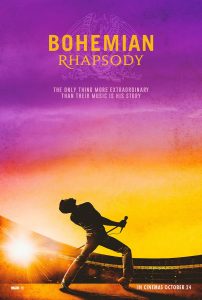 Bohemian Rhapsody is a foot-stomping celebration of Queen, their music and their extraordinary lead singer Freddie Mercury. Freddie defied stereotypes and shattered convention to become one of the most beloved entertainers on the planet. The film traces the meteoric rise of the band through their iconic songs and revolutionary sound. They reach unparalleled success, but in an unexpected turn Freddie, surrounded by darker influences, shuns Queen in pursuit of his solo career. Freddie eventually returns to lead the band in one of the greatest performances in the history of rock music. Queen cements a legacy that continues to inspire outsiders, dreamers and music lovers to this day.
Thursday 28 February 2019 – Mama Mia, Here we go Again (PG)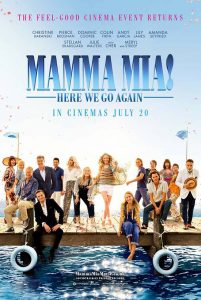 Five years after the events of Mamma Mia! (2008), Sophie prepares for the grand reopening of the Hotel Bella Donna as she learns more about her mother's past.
Discover Donna's (Meryl Streep, Lily James) young life, experiencing the fun she had with the three possible dads of Sophie (Amanda Seyfriend). As she reflects on her mom's journey, Sophie finds herself to be more like her mother than she ever even realized.
Thursday 24 January 2019 – Christopher Robin (U)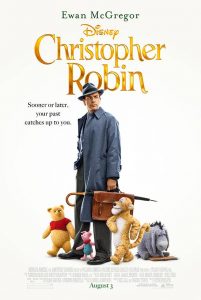 In the heart warming live action adventure, the young boy who embarked on countless adventures in the Hundred Acre Wood with his band of spirited and lovable stuffed animals, has grown up and lost his way.
A working-class family man, Christopher Robin, encounters his childhood friend Winnie-the-Pooh, who helps him to rediscover the joys of life. Starring Ewan McGregor