RMLDG Leaflet – April 2022
The leaflet below was printed and distributed to over 6,000 homes across Radyr, Morganstown and surrounding communities ahead of the local Council Elections.
I includes some of the key facts and figures about the Revised Local Development Plan and a map of some of the candidate sites that this group has particular concern around.
Download the full leaflet (660KB PDF)
View the page that the QRCode on the leagflet linked to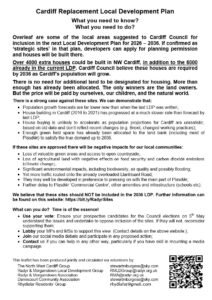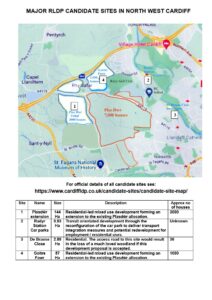 ---
Cardiff Replacement Local Development Plan
What you need to know?
What you need to do?
Overleaf are some of the local areas suggested to Cardiff Council for inclusion in the next Local Development Plan for 2026 – 2036. If confirmed as 'strategic sites' in that plan, developers can apply for planning permission and houses will be built there.
Over 4000 extra houses could be built in NW Cardiff, in addition to the 6000 already in the current LDP. Cardiff Council believe these houses are required by 2036 as Cardiff's population will grow.
There is no need for additional land to be designated for housing. More than enough has already been allocated. The only winners are the land owners. But the price will be paid by ourselves, our children, and the natural world.
There is a strong case against these sites. We can demonstrate that:
Population growth forecasts are far lower now than when the last LDP was written;
House building in Cardiff (2016 to 2021) has progressed at a much slower rate than forecast by last LDP;
House buying is unlikely to accelerate as population projections for Cardiff are unrealistic, based on old data and don't reflect recent changes (e.g. Brexit, changed working practices);
Enough green field space has already been allocated to the land bank (including most of Plasdŵr) to satisfy the true demand up to 2036.
If these sites are approved there will be negative impacts for our local communities:
Loss of valuable green areas and access to open countryside;
Loss of agricultural land with negative effects on food security and carbon dioxide emissions (climate change;
Significant environmental impacts, including biodiversity, air quality and possibly flooding;
Yet more traffic routed onto the already overloaded Llantrisant Road;
They may well be developed in preference to pressing on with the main part of Plasdŵr;
Further delay to Plasdŵr 'Commercial Centre', other amenities and infrastructure (schools etc).
We believe that these sites should NOT be included in the 2036 LDP. Further information can be found on this website: https://bit.ly/RadyrSites
What can you do? Time is of the essence!
Use your vote: Ensure your prospective candidates for the Council elections on 5th May understand the issues and undertake to oppose inclusion of the sites.
If they will not, reconsider supporting them;
Lobby your MPs and MSs to support this view. (Contact details on the above website.);
Join our social media debate and participate in any proposed action;
Contact us if you can help in any other way, particularly if you have skill in mounting a media campaign
This leaflet has been produced jointly and circulated via volunteers by: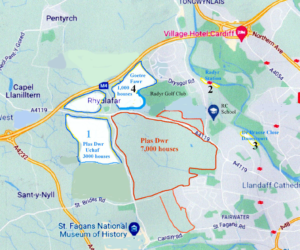 For official details of all candidate sites see: https://www.cardiffldp.co.uk/candidate-sites/candidate-site-map/
| Site | Name | Size | Description | Approx no of houses |
| --- | --- | --- | --- | --- |
| 1 | Plasdŵr extension | 144 Ha | Residential-led mixed use development forming an extension to the existing Plasdŵr allocation. | 3,000 |
| 2 | Radyr Station Car parks | 0.93 Ha | Transit orientated development through the reconfiguration of the car park to deliver transport integration measures and potential redevelopment for employment / residential uses. | Unknown |
| 3 | De Braose Close | 2.88 Ha | Residential. The access road to this site would result in the loss of a much loved woodland if this development proposal is accepted. | 36 |
| 4 | Goitre Fawr | 57 Ha | Residential-led mixed use development forming an extension to the existing Plasdŵr allocation. | 1,000 |