Radyr Musical Society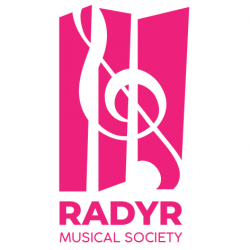 About us
For nearly 30 years, Radyr Musical Society has been staging musicals, operettas, and concerts, previously under the name 'Radyr Parish Music Group'. We believe in doing our best to put on a good show for the audience, while having fun along the way, and getting the local community involved.
We put on a full musical production in February each year, and a concert in early summer. We also have a number of social events for members, and the community, throughout the year, including dinners, quiz nights, treasure hunts, and Barn Dances.
We always welcome new members (especially men!), particularly at the start of each 'term' – September for our musical production, and March for our Summer concert. Whether you fancy yourself in a lead role, just want to enjoy singing as part of a chorus, help out backstage, or lend a hand with the essential business and administration side of performing, we'll give you a warm welcome into our group.
See the Past Shows page for picture galleries and cast lists of our musical productions.
For more details about the group and our activities, see our main website: www.radyrmusical.org.uk
Or like our Facebook page at: www.facebook.com/radyrmusicalsociety.