Radyr Drama Society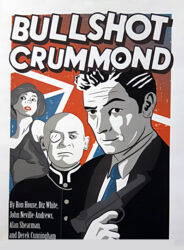 Future Production
Message from RDS Chairperson
CLUB NIGHTS
The first club night on Sept 27th was very successful with many attending.There was a quiz, nibbles, drinks – both alcoholic and soft and an opportunity to watch a snippet of our current play in rehearsal- 'Happy Jack'.
The next club night will be on Monday Oct 25th at 7.30pm in Christchurch hall on Heol Isaf, Radyr and future club nights are planned for the fourth Monday in the month (December 27th to be confirmed).
Come and join us if you need a night out!
Message from RDS Chairperson July 28th 2021
Hello everyone!
I know right?! Long time no hear! Well let me tell you, Radyr Drama have not been idle.
This is a bit of a long post to grab a cuppa/beer/ gin/ wine and have a read…
We have some bad news and good news, lots of good news…
The bad news first:
Yet again, we have decided to postpone 'Bullshot Crummond'. We felt it was better to postpone than the cancel. We intend to perform it in April 2022. Some of the cast will change, due to original cast members needing to drop out due to their commitments. But fear not Bullshot will be on stage in April 22
That's the bad news over!
The first bit of good news :
The committee agreed that you, our audience, deserved to see a play. So considering rules and regulations , we have decided to perform John Godber 'Happy Jack' in November 2021. Whilst we are unsure of how the social distancing rules will exist ( or not) we will need to make changes to our usual seating and ticket routines, but we will update you on that closer to the time. This is a production that the Drama group wants to deliver to you, for you to come and see – yes, LIVE THEATRE at last!
The second bit of good news:
A read through and auditions for 'Happy Jack' will be held on August 9th at 7.30pm in Christchurch hall, on Heol Isaf in Radyr. All are welcome.
The third bit of good news:
We are looking to hold regular CLUB NIGHTS! So people can meet up, read plays for fun and future productions, meet people, make friends and learn basic stage craft skills, ( what does the director mean by 'use your upstage hand?!!'). The finer details need to be sorted out first, but we are hoping to get this off the ground pretty soon, so keep an eye out on this page.
The fourth and final bit of good news:
We as a group need to grow, we are looking for new members! Anyone with an interest in acting, directing, stage managing, set building, lighting, prop making, prompting, Front of House are all welcome to join. Come on, we've been locked up long enough, join us and be part of live theatre, you won't regret it. Again, keep an eye on our Facebook page for club night details, or come along to the read through.
Phew! Told you there was a lot of good news!
Pete
Chair of Radyr Drama.
The Radyr Drama Society was formed in 1982 by a group of enthusiasts living in Radyr and Morganstown. It performed its first play – 'All in Good Time' by Bill Naughton – in May the following year. The group thrives entirely on the goodwill, hard work and support of its members, helpers and audiences.
The Last Production
The November 2019 production was 'The Exorcism ' by Don Taylor which was performed on November 21st to 23rd 2019 at Morganstown Village Hall.
It's a Christmas ghost story, about two couples, one of whom has bought an old cottage. Strange things happen- food goes off, lights fail, music is heard and one person swears they have been to the cottage before…
(Not to be confused with 'The Exorcist ').
The cast was as follows:
Edmund………………………….Patrick Baker
Rachel (Edmunds' wife)……Melanie McLeod
Margaret (Dans' wife)……….Helen Blundell
Dan………………………………..Peter Griffiths
Directed by Gill Evans.
Performance dates were November 21st to 23rd 2019
Below is the link to the 'Flickr' gallery for photos of this production.
The Previous Production
The previous production was Agatha Christie's "Spiders Web". which was performed on April 11th, 12th & 13th 2019 at Morganstown Village Hall.
Some pictures from this production are shown below together with the link to the 'Flickr' gallery.
New Members
Our recent productions have been well received and continue to add to the list of successful productions staged by the society. However, as in many spheres, there is a constant turnover of members and the group is constantly on the lookout for both for new acting talent and people interested in theatre ready to play a backstage role in a variety of ways such as dress making, costume design, set design, building and decoration, stage management, publicity, lighting and sound. On performance nights we also need front of house staff. Actors of all ages and sex are welcome. Recently, we have found that students following a course of study in the performing arts find it useful to get experience 'on the ground' via Am-Dram
New members who wish to take part or help off stage are very welcome
If you'd like to get involved, get in touch without delay. You can do this by contacting the chairman, Peter Griffiths at peter.griffiths5@btinternet.com
Friends of Radyr Drama Society
This is a new class of membership for which the annual fee is £10 per person and for this the member will be invited to attend play readings and any social events organised by the society.
You will be offered ONE ticket per production at HALF PRICE. We generally do two productions per year.
You may also be invited to help to advertise/promote our productions and if possible, help with ticket sales.
Also you may sometimes be invited to help with front of house tasks during performances such as selling programs or raffle tickets, showing people to their seats or helping with refreshments.
If you would like to join or you want more information, please contact Peter Griffiths.
GDPR and Radyr Drama Society
The Privacy Policy of the Society can be seen by clicking on 'Privacy Policy' at the top right of this page (or at the bottom of the page if using a laptop or other mobile device).
Some Photographs of 'Spider's Web':-