Radyr Drama Society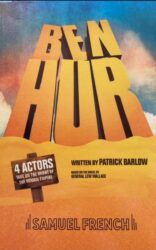 The Radyr Drama Society was formed in 1982 by a group of enthusiasts living in Radyr and Morganstown. It performed its first play – 'All in Good Time' by Bill Naughton – in May the following year. The group thrives entirely on the goodwill, hard work and support of its members, helpers and audiences.
Next Production
The society's production this autumn is 'Ben Hur' adapted by Patrick Barlow who also wrote 'The 39 Steps' adaptation. Performance dates are Wednesday, Thursday and Friday November 22nd to 24th in Morganstown Village Hall. Curtain up is 7.30 pm and tickets at £12 are available by calling 07881 206745 or 07866 604039. Tickets can also be booked on line Ticketsource, searching for Radyr Drama.

Last Production
Our spring production was 'Murdered to Death' by Peter Gordon. This is a spoof VERY loosely based on the Agatha Christie style plays. Performance dates were 26-28th April 2023 in Morganstown Village Hall.
Previous Production
The Autumn 2022 production was held in Morganstown Village Hall on Wednesday to Friday, 23rd to 25th November. Based on the Hitchcock film, 'The 39 Steps' this adaptation by Patrick Barlow allowed seven actors to bring 150 characters to life! The book is well known, the films are well known, and incredibly, the play contains every single legendary scene from the award-winning film – including the chase on the Flying Scotsman, the escape on the Forth Bridge, a bi-plane crash and the sensational death-defying finale in the London Palladium!
Mix a Hitchcock masterpiece with a juicy spy novel, add a dash of Monty Python and you have a fast paced whodunit. This theatrical treat was packed with nonstop laughs, over 150 characters and some good old fashioned romance!
The cast were Peter Griffiths, Melanie MacLeod, Tony Allan, Graham Perkins, Helen Blundell, Phil May and Drew Heusch. They were directed by Pete Stickler.
Pictures from Past Productions
Pictures from past productions can be seen by clicking the link to 'Past Productions' in the right hand panel (or for a small screen device, at the bottom of the web page).
New Members
Our recent productions have been well received and continue to add to the list of successful productions staged by the society. However, as in many spheres, there is a constant turnover of members and the group is constantly on the lookout for both for new acting talent and people interested in theatre ready to play a backstage role in a variety of ways such as dress making, costume design, set design, building and decoration, stage management, publicity, lighting and sound. On performance nights we also need front of house staff. Actors of all ages and sex are welcome. Recently, we have found that students following a course of study in the performing arts find it useful to get experience 'on the ground' via Am-Dram
New members who wish to take part or help off stage are very welcome
If you'd like to get involved, get in touch without delay. You can do this by contacting the chairman, Peter Griffiths at peter.griffiths5@btinternet.com
Friends of Radyr Drama Society
This is a class of membership for which the annual fee is £10 per person and for this the member will be invited to attend play readings and any social events organised by the society.
You will be offered ONE ticket per production at HALF PRICE. We generally do two productions per year.
You may also be invited to help to advertise/promote our productions and if possible, help with ticket sales.
Also you may sometimes be invited to help with front of house tasks during performances such as selling programs or raffle tickets, showing people to their seats or helping with refreshments.
If you would like to join or you want more information, please contact Peter Griffiths.
GDPR and Radyr Drama Society
The Privacy Policy of the Society can be seen by clicking on 'Privacy Policy' at the top right of this page (or at the bottom of the page if using a laptop or other mobile device).
Some Photographs from 'Last Tango in Little Grimley and the Monologues:
View the 'Last Tango in Little Grimley' photo gallery on Flickr
View the 'Free Play Period' photo gallery on Flickr
View the 'A Chip in the Sugar' photo gallery on Flickr