Bellringers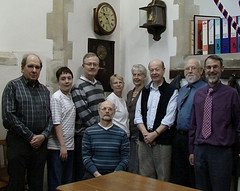 Bell Ringers
Our dedicated "band" of bell ringers at Christ Church aim to be able to ring for all Sunday morning services and as many of the church's special occasions as they can.
If you would like to join us you will be most welcome either as an experienced ringer or a trainee.
The tower also welcomes the occasional visiting band to ring the changes. If you are interested in bringing your band to ring in Radyr please contact the Band Secretary.
Links:
Practice night: Thursday 7:30 to 9:00 pm.
(Visitors: please check with the Ringing Secretary as some practices get cancelled during the holiday season)
Contact information: