Operation Christmas Child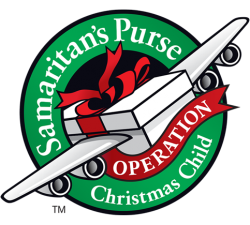 Since 1990 Operation Christmas Child has been blessing children around the world with gift-filled shoe boxes packed by children and adults in the U.K.It's a campaign supported by thousands of schools, churches and other organisations between September and November each year. In fact, it is now the U.K.'s largest children's appeal.
It aims to meet critical needs of war, poverty, disease and natural disaster. For many children it is their only Christmas present.
Locally, we start contacting our churches groups, schools and local organisations in September and distributing the information leaflets. We then hold our Shoe Box Sunday in November when all our boxes are placed in Christ Church for a blessing. The following day, volunteers come to collect them in a van, then take them to the warehouse for sorting and packaging. All people involved in this scheme are volunteers.In the regional warehouse, each box is opened and unsuitable contents removed. It is preferable to leave the box untouched as the donor planned it if possible. Any unsuitable contents are given to Charity shops etc. as we have to ensure the boxes conform to tight rules.
The boxes are tightly bound with coloured tape before being crated for transport. It is an amazing operation to witness!
We are in South East Wales district and in 2016 the Llantrisant warehouse processed 35,092 shoe boxes!
With your help we sent:
16,375 to Zambia
9,673 to Albania
2,696 to Romania
6,348 to Belarus
It is basically a Christian Organisation. The children are given a leaflet on the Christmas story and can follow it up by attending a sort of Sunday School.Many people go annually from U.K. to help distribute the boxes and return with moving stories.
Here in the Parish of Radyr we have collected a total of:
200 shoe boxes in 2019;
256 shoe boxes in 2018;
288 shoe boxes in 2017;
265 shoe boxes in 2016.
Details for the 2020 collection will be published nearer the time but start gathering small items for your box now as we are likely to be collecting them for Sunday 15 November 2020.
Read more about Operation Christmas Child
For more information about the Shoe Box appeal in Radyr Parish or to offer your help please contact Anne-Marie Phillips 029 2084 2526