St. John's, Danescourt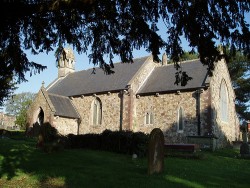 Rachel Close, Danescourt, Cardiff, CF5 2SH
The Parish Church: To approach St John's is to leave behind the busy shopping centre and housing estate and enter a quiet haven. Its abundance of trees and its surrounding stone wall have thankfully preserved the atmosphere of a quiet country church. St John's is actually the ancient church of the parish, almost 800 years old, though it was much altered in the Victorian period. We believe it stands on the site of an ancient wayside shrine – the prayer place (aradur) which gives the parish its name.
It retained its existence as a little country church, surrounded by farmland, until the 1970s. The creation of the suburb of Danescourt, while completely transforming the character of the surroundings, has served to be the lifeblood of this church, and enabled it to serve a new community.
As you pass through the lychgate you enter the churchyard, with its old gravestones (including those of the parents of the author Roald Dahl). As you approach the main door of the church you pass the large yew tree to the left of the path, which may be a thousand years old.
When you enter the main door the first impression is of the intimacy of the nave, with its organ to your left at the back and the altar, and large window, to your right at the front. To worship here is to do so in an atmosphere of peace and calm, reminiscent of the rural environment the church witnessed for most of its long life.