The Parish Hall, Danescourt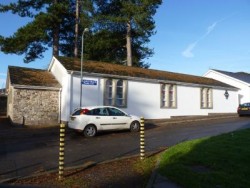 St John's Church Parish Hall, Rachel Close, Danescourt, CF5 2RF is available to hire to independent organisations and individuals, on a regular or one off booking basis. The main activity area provides space suitable for uses such as children's activities, children's parties, personal development activities, family functions and meetings.
The Hall is also the electoral polling station for Danescourt.
The main hall (off a small entrance lobby) measures 15m by 6m and has plenty of natural light. The hall is accessible for wheelchair users or those with other mobility impairments and also has 4 toilets as well as a accessible toilet. Heating is by two gas fires with protective grills for safety. There is an emergency exit at the rear of the main hall.
Users of the hall have access to an assortment of chairs and tables. Those wishing to hire a bouncy castle for parties should note that the maximum dimensions allowed are 4.5m sq by 3m high.
There is a good sized kitchen which can be used for the serving of pre-prepared food and preparation and serving of hot and cold drinks. Please note the Hall does not have a separate food hygiene rating.
If you are interested in hiring the hall please complete the below enquiry form.
---
Parish Hall Booking form
---