New School Rooms, Radyr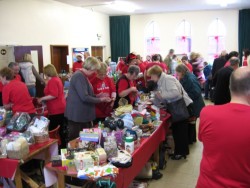 In use for a Christmas Fundraiser
Adjacent to Christ Church, Heol Isaf, Radyr
The New School Rooms adjacent to Christ Church, Heol Isaf, Radyr is available to independent organisations and individuals, on a regular or one off booking basis. The main activity area provides space suitable for uses such as children's activities, personal development activities, family functions and meetings.
The Main Hall
The main hall comprises a main entrance and waiting area, off which are ladies and gents toilets including one dedicated disabled toilet.
The hall space measures ??x?? and has a number of collapsible tables, chairs and a grand piano. It will comfortably seat 60? for a function. There are curtains to all windows and an emergency exit to the Church grounds.
Alongside the hall is a good sized, modern kitchen with serving hatch, range cooker, fridge, plumbed water urn, two sinks, kettles and communal crockery.
Upper Meeting Room
The small, upstairs, meeting room will accommodate about 12 people. Tables and additional chairs are available on request.
To enquire about hall availability please contact Nicky Webber 18 Blaen-y-Coed, Radyr, Cardiff, CF15 8RL. Telephone: 029 2084 3582 or email: nsrbookings@radyr.org.uk