Christ Church, Radyr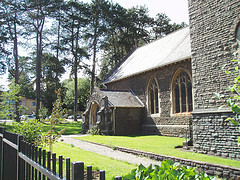 Heol Isaf, Radyr, Cardiff, CF15 8DY
(For Sat Nav we are near number 52)
The first thing you notice as you arrive at Christ Church is its garden setting surrounded by trees. It is an ideal setting for the summer fayres and and Church picnics.
As you enter the main body of the church, to the left of the entrance is the font. This is where baptism takes place.
Your eyes will, however, be carried to the right down the central aisle of the main body of the Church, the nave. At the far end is the altar, or holy table. The altar is key to the act of worship.
Either side of the nave are beautiful stained glass windows.
Half way down on the left you will see the stone pulpit, from which the sermon is preached and, behind that, the choir stalls.
The archway left of the pulpit leads to the Lady Chapel, which is adjacent to the choir stalls. The Lady Chapel is a relatively new addition to the church, used for smaller services.
Beyond the Lady Chapel are the kitchen, toilets, and the hall which provides a large Sunday School room. Coffee and tea are also served in the hall after services.
The Lady Chapel and Processional Way (linking the Church and the hall) have striking modern stained glass windows.