The Parish of Radyr
On 17 February, Ash Wednesday, we entered the period of Lent, which lasts until Easter Day, 4 April.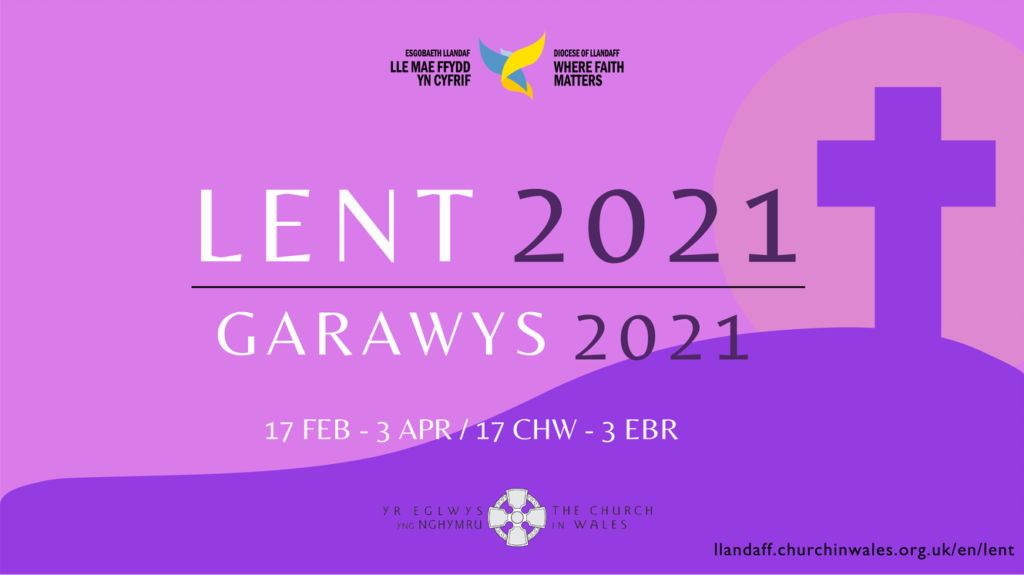 Please look at our Parish Newsletter for details of all current and upcoming services and events.
In addition, here are some links to some useful Lent resources:
Bishop June's Homilies. Bishop June is recording a weekly homily based on the lectionary Eucharistic readings for that Sunday. Here is the link:
Bishop June's Weekly Homilies – LLandaff Diocese (churchinwales.org.uk)
Bishop's Lent Appeal.  The 2021 Lent Appeal is raising money for projects across the diocese that are tackling food poverty. Read about it here:
Llandaff Community Support Fund – LLandaff Diocese (churchinwales.org.uk)
Opening Our Lives Lent Course.  Our 2021 Lent course is Opening Our Lives by Revd Dr Trystan Owain Hughes. Trystan is a tutor at St Padarn's Institute and Vicar of Christ Church, Cardiff.  Starting on Ash Wednesday, each week Trystan will offer a short video introducing the themes he explores in the book.
Opening our Lives Lent Course – LLandaff Diocese (churchinwales.org.uk)
Sadly, as a result of the latest Coronavirus alert levels in Wales, we have had to make the decision to close our churches for regular worship until further notice.
Further background to this decision can be found in this letter from Vicki.
Our services will now take the following pattern:
Sunday morning: One service on Zoom at 10:30am. Normally, this will be a Eucharist service but other formats will be interspersed such as a 'Songs of Praise'.
Sunday evening. There will be a recorded service available from 6:00pm, but once a month there will be a live Facebook service (times will be announced)
The Radyr Sunday club (via Zoom) will continue as normal. (Children of all ages are welcome to join this group)
Vicki: 029 2084 2417 or 07515 965 781 (Please call the mobile at any time in a pastoral emergency), vicki.burrows@me.com  
Belinda: 029 2056 7956 or 07734 248 869, curateofradyr@gmail.com.
Please note the clergy day off is Friday – PLEASE only contact Vicki's mobile in extremis on Fridays.
PASTORAL CARE 
We recognise that the past few months have been difficult for many people – some of us have faced loss, loneliness and the impact of the Covid-19 lockdown has taken its toll emotionally, socially and financially on many of us.
Please do not hesitate to contact  the clergy for support
Each week we produce a Parish Newsletter. Do follow the link and have a look at them. 
If you would like to be on our mailing list to hear about our services and social activities, please send your details to parish@radyr.org.uk. The Parish Newsletter goes out at least weekly.
Please explore this website using the other menus.