Pilot scheme for segregated recycling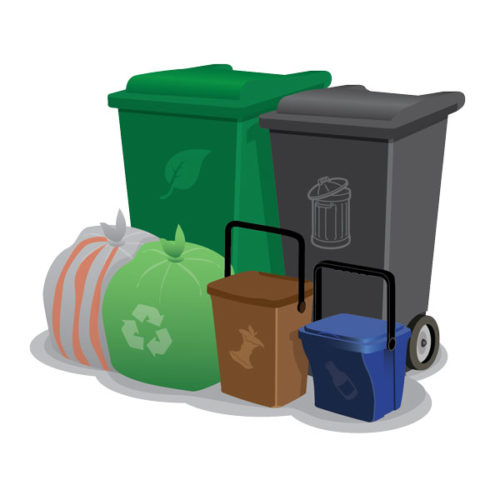 21/12/2021
Four thousand homes across Cardiff to take part in a pilot scheme to test ways in which recycling rates across the city might be improved – and 1,000 of these are in Radyr and Morganstown.
The scheme is part of a review of waste collections in Wales' capital designed to hit Welsh Government recycling targets by 2025 and to make Cardiff one of the greenest and cleanest cities in the UK.
Since this announcement was made by Cardiff Council earlier in December, your Web Team have been seeking some answers to the burning questions about this pilot scheme.
The following is based on the answers we have been able to get to your questions through County Councillor Rod McKerlich and the Team at Cardiff Council responsible for the recycling pilots.
Why is a new scheme required?
Cardiff is currently the leading, major regional city in the UK for recycling. On average since 2018, 58% of waste produced in the city is recycled or composted. However, Welsh Government has tasked Cardiff with increasing this rate to 64% as quickly as possible and to 70% by 2025.
Although co-mingled recycling – placing all recyclable items into the green bags as we do now – is easy to do, the levels of contamination have proven to be too high despite various education programmes. Right now, when we look at the total amount of non-recyclable waste processed, 8% is made up of rejects from our recycling collection and process. The industry average is 2%. Analysis carried out in 2019/20 identified 10,000 tonnes of recycling were lost due to contamination. This alone could have increased our recycling rate by 3%.
What are the objectives of the new scheme?
The objectives of the pilot scheme are:
To measure how much recycling is collected and determine the number of vehicles that would be required if the pilot was expanded citywide;
To assess the levels of contamination received via the three-stream pilot, in comparison with the current co-mingled waste collection;
To understand residents' views on using reusable bags;
To understand any impact on street cleanliness in pilot areas;
To assess the size of the collection rounds and the time it will take to separate different materials against the current system; and
To identify the resources required and costs involved to expand the pilot citywide.
How do I know if I am involved in the pilot?
All properties included in the pilot will receive a letter from the council in early December, followed by a detailed leaflet on what they need to do and the reusable sacks will then be delivered between 10 and 24 January 2022. These pilot will then begin from 24 January 2021 with waste continuing to be collected on the usual day (Tuesdays in R&M) but using the new collection methods.
Specifically in Radyr & Morganstown there will be around 1,000 properties which will be some, but not all, of the properties that were previously involved in the Blue bin pilot for the segregated recycling of glass items.
What should residents do if they have more recycling than the new containers can hold?
Additional reusable bags and caddies will be available on request. However, the reusable sacks do hold a large volume of materials, and the recycling will be split across 3 containers. As such, we will be encouraging residents to give the scheme a try before deciding whether they need an additional sack or caddy.
Customer feedback is important to us, we will be consulting those on the trial in March, once residents have been using the scheme for some time. In the meantime, the web page referenced in the letter to residents (www.cardiff.gov.uk/recyclingpilot) provides details regarding how residents can provide feedback.
With regards to cardboard, we ask that this is folded and placed in your sacks wherever possible (it is important to try to keep cardboard dry to enable it to be recycled). Exceptionally large pieces of cardboard should either be broken down or taken to a HWRC, but crews will be instructed to take cardboard from alongside bags as they do at present.
Shredded paper can be placed loose within the blue sack.
How can I give feedback on the pilot?
The Council will ask for feedback on the trial in March, but it is likely to continue beyond this date. If successful, it will take some time to roll out city-wide. It is not possible to give definitive dates at this time.
Customer feedback is important to us, as such we will be issuing new, improved blue caddies. We did consult residents regarding the glass trial, and found that the shape of the previous caddy allowed water to enter it. Also, some residents found that one caddy was insufficient for a fortnightly collection. As such, we will be issuing a new design caddy and collecting caddies weekly. Old caddies can be used for surplus glass, repurposed as desired or recycled in the plastics skip at your local HWRC . Additional caddies will also be available if you still have surplus glass.
For those involved in the pilot, there will be a public survey for you to share your views about how the pilot works for you. This will be open in March once you have been using the scheme for some time.
When we asked about the ability for those not directly involved in the pilot to give their views about how the scheme was working and how it affected those surrounding the pilot area we were told:
You can also feedback by contacting C2C 029 2087 2087 or by using the online contact form.