Online services for Holy Week and Easter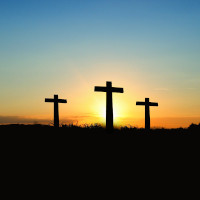 01/04/2021
Both Radyr Methodist Church and the churches of the Parish of Radyr (Christ Church, Radyr & St John's, Danescourt) remain closed for in-person worship at the moment but that does not mean that there will not be services in the village for Holy Week and Easter.
Parish of Radyr
The Parish of Radyr will meet:
Maundy Thursday at 18.00 for an Agape Meal, led by Rev'd Gareth Rayner-Williams over Zoom.
Good Friday at 15.00 for a service of Seven Moments, led by Rev'd Belinda Huxtable broadcast on YouTube
Easter Sunday at 10.30 for Sunday Worship including an Agape Meal – Spiritual Communion over Zoom.
Radyr Methodist Church
Radyr Methodist Church will be meeting online, via Zoom, on:
Maundy Thursday at 18.00
Good Friday at 12.00
Easter Sunday at 10.30
Anyone is welcome to the Methodist Services, simply contact Rev. Judith Holliman for the Zoom details.