Garden Waste – Winter update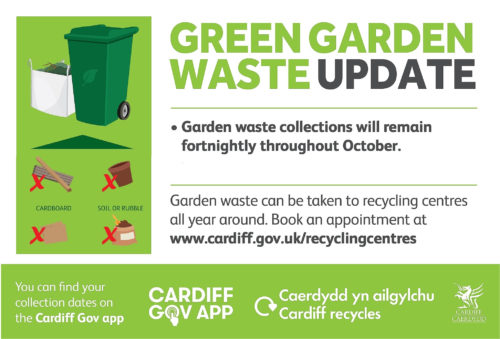 12/10/2020
Update – 28 December 2020
The Web Team have today heard that the special post-Christmas Green Waste Collection for Radyr & Morganstown has been scheduled for Monday 11 January 2020. Please put your green bin out as usual on this date if you have any garden waste to be collected. You can also place your real Christmas Tree out alongside your Green Bin and this will be collected on this date.
Original story
Cardiff Council have announced that Garden Waste collections will be fully suspended over the winter.
There will be no collections in November, December or February. This means that Radyr's last garden waste collection of 2020 will be Monday 19 October.
A special collection will happen in January for real Christmas trees and any other garden waste – we will let you know the date for Radyr & Morganstown as soon as Cardiff Council confirm it
Fortnightly collections will restart in March 2020
Garden waste can be taken to recycling centres all year around. Remember you now need to book an appointment at http://www.cardiff.gov.uk/recyclingcentres