Consultation – Cardiff's Bus Strategy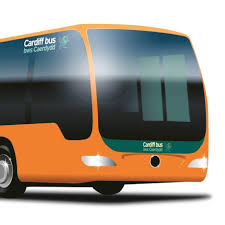 01/11/2021
Cardiff Council are running a consultation on their new Bus Strategy.
The new strategy aims to double the number of people who use buses in Cardiff, and the consultation seeks views on how bus services within the city can improve in order to reach this target.
The eight-week consultation (ending around Friday 10 December) seeks views on Cardiff Council's nine-point strategy to improve bus services in the city for both residents and commuters, including:
Introducing cheaper fares;
Working with Transport for Wales (TfW) to develop an integrated ticketing system which works with the Metro;
Getting more low-emission buses on the road;
Building infrastructure which will make bus travel easier and quicker; and
Creating a better customer service.
Fill in the short survey and give your views today
In releasing this consultation Cardiff Council have stated
We've been highlighting the need for better bus priority measures across the city which will help us with our battle against traffic congestion, and as a result improve our reliability.  We know that service reliability with predictable journey times is very important to you and infrastructure that allows us to deliver this for you is now more critical than ever.  If we have the infrastructure to operate on time, every time, it will make moving around our city by bus a real and credible alternative.  With more effective bus priority measures we believe that the Council will reach their target.

We all have our part to play in tacking the climate change agenda – and making more journeys by bus can be your part to play in making Cardiff, and the World, a greener place.

Therefore, we're asking you to take part in the Council's survey to give your views.  Your contribution will help shape the future of bus travel in Cardiff, so please have your say.

Remember – on time, every time is only achievable with effective bus infrastructure and priority. 
Cardiff Council's nine-point strategy includes:
1)     Finish and build the required infrastructure: This involves the completion of the Central Bus Interchange and building three Transport Interchanges at Waungron Road in Fairwater, Parkway Station in St Mellons, and at the University Hospital of Wales in Heath. A new park and ride facility will also be built off the M4 at junction 33 and options will be explored for another interchange facility at Junction 32 to displace traffic off the A470.
2)     New Bus priority 'smart' corridors: Several 'smart' bus corridors have been identified, including a cross-city route and a possible orbital route to a wider range of destinations without needing to travel into the city centre to go from one side of the city to the other. Services would be more frequent, using electric-powered buses in inner city areas or in areas where there are existing air-quality issues, with quality facilities available on-board for customers to use, and improved information available at bus stops.
3)     City centre package: As well as the completion of the Central Interchange, further plans involve the creation of a number of transport hubs around the city, so that customers can interchange between train, bus, cycling and walking. There will be a clear prioritised 'city centre loop' for buses, well-located bus stops and facilities for customers to use.
4)     Integrating with the Metro, integrated ticketing and clear information for customers: These plans include delivering a single, integrated ticket that can be used on trains and with different bus companies. This will make it easier for people to interchange between train, bus and active travel. The council will continue to develop segregated cycleways and deliver improvements to footways. Signage and on-street information will also be improved so that people can understand how they can move around the city by interchanging between different modes of travel.
5)     Integrated affordable fares: To ensure travel by bus is appealing, the price structure has to be correct and may require prices to be capped. A review will be carried out to establish a single fare structure, including looking at £1 fares and off peak reductions. It is important that tickets can be transferred so they can be used on services, regardless of the company that operates the bus route.
6)     Review on the governance and funding for the bus network: This involves the long-term options of integrating bus networks, including looking at franchising and partnerships that could arise in the future through Welsh Government legislation.
7)     Creating a better customer service: Ensuring that buses deliver a high level of comfort and are digitally connected for customers to make bus travel a more enjoyable experience.
8)     Low emission/zero carbon fleet: Increasing the number of zero carbon buses into the bus fleet at a faster rate. Further analysis will also take place on the whole system costs and benefits of electric buses compared with diesel-powered buses which can be used for funding bids.
9)     Integration of school transport: The plans include making school transport cheaper and easier to use for all school children, while meeting all statutory requirements for children entitled to free bus travel. This will also involve closer integration between travel by bus and active travel plans that have or are being developed in each school.