Consultation – Cardiff's Active Travel Routes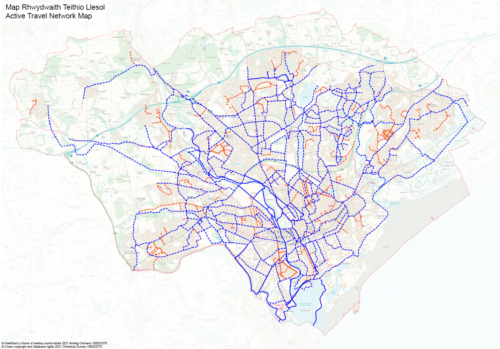 13/09/2021
Cardiff Council are currently consulting on how we use the Active Travel Routes across the city and what these should look like in the future.
​​The Active Travel Network Map (ATNM) looks ahead over the next 15 years at a network of walking and cycling routes that will help residents travel around the city more easily.
The draft Active Travel Network Map for Cardiff has been developed to take account of:
Proposals to improve routes for walking and cycling set out in the Transport White Paper, including a network of segregated Cycleway routes,
Routes required to connect strategic development sites to existing communities and key destinations, including the City Centre and Cardiff Bay,
​Routes required to access important local destinations across the city, including schools and local shops,
The feedback received from the Commonplace engagement undertaken between November 2020 and January 2021, which identified additional locations where improvements for walking and cycling are required.
The council are now asking
Have we identified the correct routes for improvement (proposed routes)?
Are we correct in our assessment of routes that already meet the agreed standards (existing routes)?
Have we identified all the appropriate new routes?
Are the proposals in the schedule of schemes appropriate for developing the proposed routes?
This consultation will fulfil the requirement under the Active Travel Act for local authorities to undertake a statutory 12 week consultation on the Active Travel Network Map.
View the proposed walking and cycling route improvements and have your say on the Active Travel Network Map​
The consultation closes on 31 October 2021.​