Christmas Tree Lighting 2020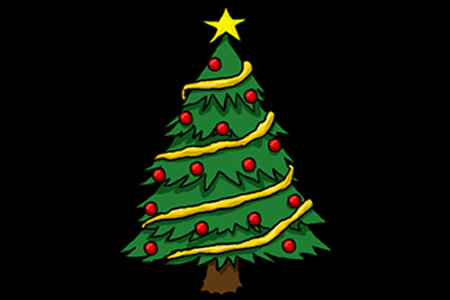 23/11/2020
Christmas is coming – but as with many things this year we will have to do things slightly differently.
The RMA have arranged for the usual small Christmas Trees along Station Road. The Community Council have arranged for the festoons of overhead Christmas lights. In each of Windsor Gardens, Granny Park and Lychgate Gardens we will have a large tree festooned with lights again arranged by the Radyr and Morganstown Community Council. The lights may start to be visible once these trees go up but the official switch on, by the Lord Mayor (who is also our local County Councillor) Cllr Rod McKerlich, will be streamed Live via YouTube at around 19.00 on Friday 4 December. Tune in from 18.50 to make sure you don't miss out.
Due to the current regulations it will not be possible to have the usual stalls and public gathering for the lights switch-on so, we are asking people NOT to attempt to come to Station Road for this event but to watch from home to allow us to ensure that we maintain good Social Distancing… However, do also keep one eye out of the windows as we hear that Santa also has an appointment to travel around Radyr & Morganstown on his sleigh through this evening before and after the official lights switch on. The approximate timings and his route are below.
Santa will be accompanied by volunteer collectors with buckets for Tenovus, the RMA Charity for 2020-21. Please give generously either to these collectors or through their JustGiving Page – https://www.justgiving.com/fundraising/radyrfot
Watch the switch on via YouTube from 18.50 on Friday 4 December 2020 – https://youtu.be/SsdsutwU_0w
Santa's  Itinerary on 4 December.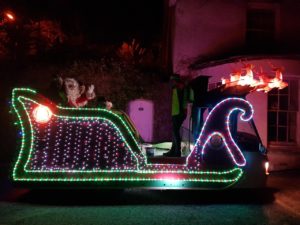 Please note that all timings are approximate.
17.15   Ravensbrook,  Heol Syr Lewis
17.35   Ffordd Treforgan, Meadowfield Way, Mae y Gwair, Heol y Cwm, Heol y Crofft
17.55   Ty Nant Inn, Main Road (Morganstown), Bryn Derwen, Cae'r Graig, Pentwyn, Cae'r Graig, Bryn Derwen
18.20   Hazel Tree Close, Bryn Derwen, Dan-y-Bryn Ave, Windsor Ave, Windsor Road, Station Road
18.50 – 19.10 Station Road Lighting ceremony – Watch on YouTube
19.15   Kings Road, Fisher Hill Way, Lychgate Gardens
20.00   The War Memorial, Heol Isaf, Llantrisant Road
20.15   Heol Rufus, Heol Roald Dahl, St Philbert Street, Clos Park Radyr, Llantarnam Drive, Drover's Way.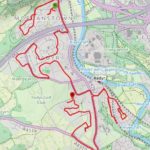 (Click on image to enlarge map)