Aftermath of Storm Dennis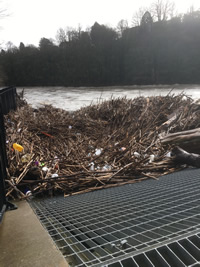 18/02/2020
Last weekend, the river Taff rose and rose following storm Dennis, breaking its banks in a number of places as it passes through Radyr & Morganstown. Our nearest monitoring station at Upper Boat recorded a record river height of over 5.4m on Sunday morning compared to the previous record of 3.9m in September 2008 and a typical level of 1.4m for this time of year.
Do you have any pictures of Radyr & Morganstown after storm Dennis? Share them with us by e-mail to web-team@radyr.org.uk and we will add them to our online gallery.
The Web-Team have been made of the following service disruptions as a result of storm Dennis. If you are aware of something we haven't mentioned please drop us an e-mail (web-team@radyr.org.uk) or a message on Facebook (RadyrAndMorganstownHub)
Royal Mail
Update from Royal Mail on Monday (17/02/2020)
Our Cardiff North West Delivery Office is closed following the flooding over the weekend.

Staff have been relocated to our Cardiff North Delivery Office, where they'll be prioritising the delivery of all Royal Mail Special Delivery and Royal Mail Tracked items for delivery today.

The Customer Service Point at Cardiff North West Delivery Office is closed. Therefore at present, you won't be able to collect any item of mail for which we've left a 'Something for you' card prior to the flooding, as these items will need to be recovered from our North West site. We'll update this page with further details once we know more.

With regard to any items of mail where delivery is attempted today and a 'Something for you' card is left, you'll notice the card will have details for our Cardiff North Delivery Office. This is correct and will be where any items of mail that we've attempted to deliver today (Monday 17 February) will be held for collection, until such time our Cardiff North West site is back in operation.

We're very sorry for any inconvenience caused, we hope to return services in Cardiff North West to normal as quickly as possible.
We will update this item as further information is sent to us. Royal Mail service updates can be seen directly at https://personal.help.royalmail.com/app/answers/detail/a_id/12556/~/service-update
Transport for Wales (Trains)
We understand that following some initial disruption train services are now able to run in both directions from Radyr and Taffs Well stations.
No services are able to operate between Pontypridd and Treherbert or Aberycynon and Aberdare. Replacement road transport will operate on these routes.
Latest information can be found at: https://www.journeycheck.com/tfwrail/
Advice from Natural Resources Wales
If you have been or feel you might be affected by flooding, advice is available from Natural Resources Wales on What to do before, during and after a flood.